The Robotics Society in Finland
The Robotics Society in Finland (Suomen Robotiikkayhdistys ry) is an open association of people interested in (industrial) robotics. We are a private, non profit organization, established year 1983. Our mission is to support all the users, technology providers and educators in the field of industrial robotics by providing the right contacts, training and advice.
Our society completes it mission by organizing different educational events and activities. We arrange group trips to major robotics fairs and events in Europe. To support research and education we take part in national and European research projects. For active future we support different organizations providing robotics education for kids and school children like Innokas -network, FLL Suomi, and Roboedu. Great example of such collaboration is the robot TV gameshow for kids, Robomestarit.
Our member base consists of 300+ personal members and around 60 supporting members.
The Robotics Society in Finland is a member of euRobotics, member of GRC, The Global Robot Cluster, and a founding member of IARA, The International Alliance of Robotics Associations.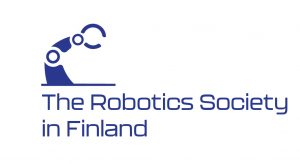 Our main tasks is to promote robotics by:
Arranging training and excursions
Collecting finnish robot statistics
Publishing books and material
International co-operation
Taking part in relevant EU projects
Completing studies to government bodies
For more information, contact jyrki.latokartano@roboyhd.fi